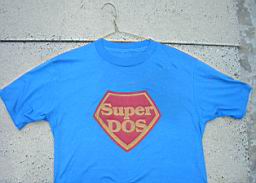 Who doesn't like getting free crap swag when visiting with a partner or customer or attending a convention and stopping by a booth you otherwise might have bypassed had the booth babe not been handing out t-shirts?
Here's someone who obviously has collected his fair share of swag t-shirts. Seeing some of these shirts really takes me down memory lane.
I've got my share of shirts as well, half haven't even been worn, maybe I should use some as prizes here on geeknews. Hmm.
[via has_many:questions]